Regular price
$124.00 USD
Sale price
$38.00 USD
Unit price
per
Sale
Sold out
This product is listed on the Australian Register of Therapeutic Goods (ARTG) through the Therapeutic Goods Administration (TGA) as a Class 1 Medical Device. You may be entitled to a health fund rebate on your purchase. Learn more.
Voted one of the best post partum products of the year by Mum Central, read on to find out why this Pregnancy Recovery Legging is raved about by thousands of Australian Mums.

The Mama physio (who is a women's health physio in Melbourne) endorses Emamaco Pregnancy Recovery Leggings.
Watch her awesome video review here, with great post partum tips and tricks:


View full details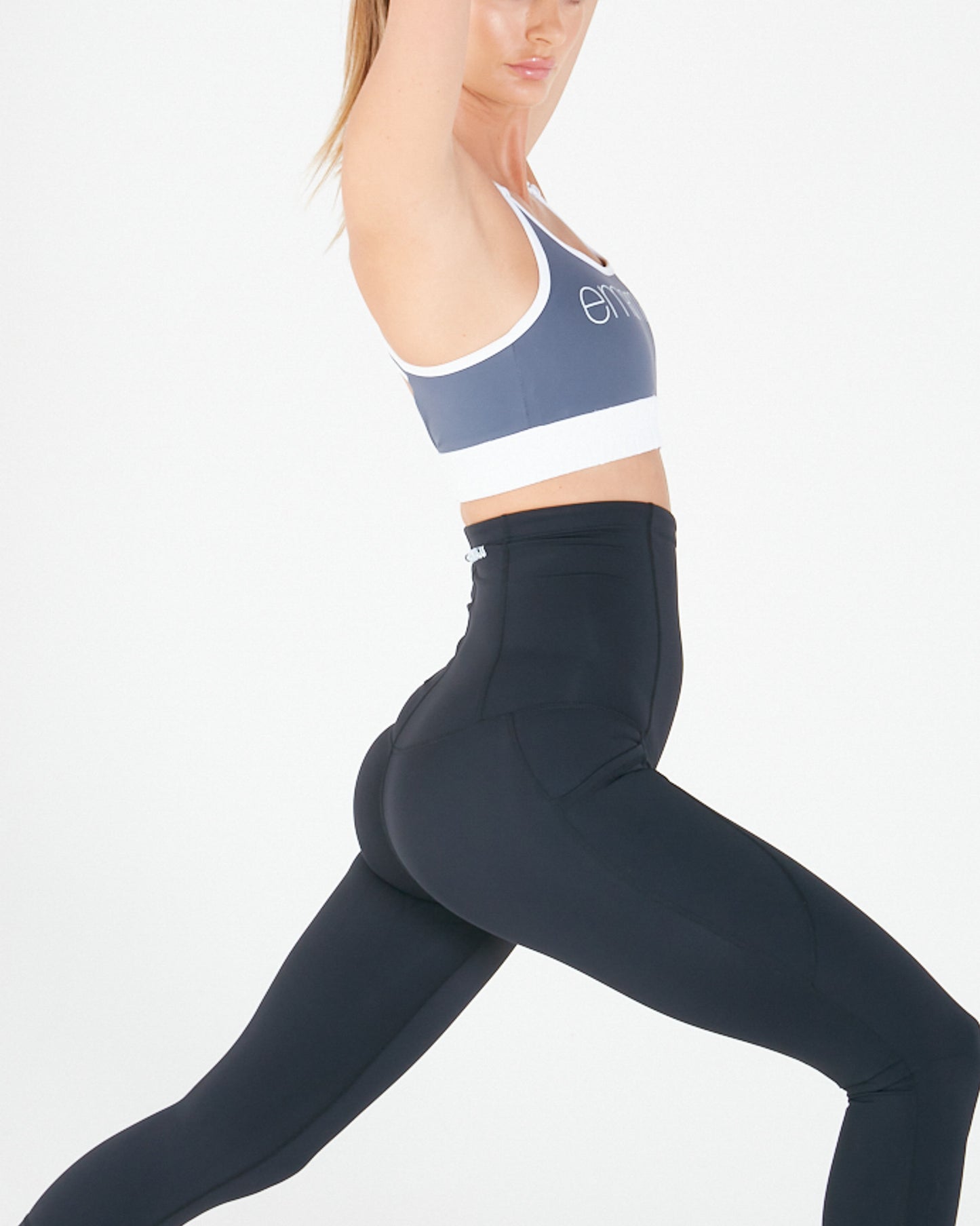 Collapsible content
About Emamaco Recovery Leggings

Designed from the ground up to support and shape Post Natal.
Introducing the Emamaco Pregnancy Recovery Leggings and Shorts.

Made to complement the Emama Maternity Leggings. Our Maternity Leggings are made to be worn throughout pregnancy and also immediately after. When you need that extra support and compression you can switch to these Pregnancy Recovery Emama Leggings (usually straight away when you get home from hospital).

Please consult your medical professional regarding your compression requirements for post pregnancy recovery. They will be able to advise you on the timing and suitability of wearing recovery clothing including the emamaco pregnancy recovery tights.

Extra high and extra supportive the pregnancy recovery leggings pull you in provide back support as well as abdominal support.
4 Panel Support System

With in-built Mesh we have 4 support panels around the tummy to provide back and ab support and the help with ab separation through compression.

The extra layer of mesh provides breathable support and compression through the abdominal region.
Stitching for Post Natal Recovery

We only use flat lock stitching because it is strong and does not cause skin irritation. This is especially important for Post natal recovery if you have c-section scars.

The waist seam is lower to provide all of the support required for postpartum 
Materials and Fabrics

Made from the emamaco Supaflex fabrics used across our maternity range, the leggings are smooth, super soft, breathable and fit like a second skin.

Material is a custom Nylon and Elastane blend

please note some sizes have our updated emamaco logo at the back - note shown in picture new photos coming soon
The new logo is just as small and unobtrusive as the old.
Size Guide

The size chart for Recovery is different to Maternity & all other emamaco leggings.

Sizing is based on your Hip Measurement if you are currently 35v weeks plus.
To measure your hips you just measure around the widest part of your butt (not your bump!) like in this photo:

Please note our size chart is a guide and everyone and everybody shape is different  if you need help with sizing always reach out to our customer service team for help.

If you are postpartum:

We recommend to choose based on your waist and hip measurement.

If you find on the size chart that your waist measurement is under a larger size category than your hip measurement then we recommend to go with the waist measurement. For example if your waist is 80cm and your hip is 102cm then we recommend to go with size medium.

If your hip measurement is on the larger size category compared to your waist measurement on the size chart then we recommend to go by the hip measurement. For example if your hip is 100cm and your waist is 73cm then we would recommend to go with size XS 

Please note our sizing chart is a guide and everyone is different. If you have any questions about sizing please get in touch through the contact us page here.

Please pick your size based on your hip measurement if 35 weeks plus pregnant and  based on your waist and hip measurement if postpartum in the chart below, please note everyone will always fit into 2 sizes well. If you want a less tight fit you can usually size up.
Note - do not size down as these are a compression garment and quite tight!

Sizing applies for all Pregnancy Recovery Leggings and Shorts.
Shipping Info

Please note that there are some slight delays at the moment in shipping due to a high volume of orders. This will only impact some orders.

Emamaco is proudly owned and operated in Australia. 

Emamaco is based in Melbourne. Our offices are located in Brighton and we ship out of our warehouse and offices at 1/3 Palomo Drive in Cranbourne West, Victoria.


Shipping Details 

All orders are shipped from our warehouse in Melbourne using Australia Post or special courier.

We try to ship orders out as fast as possible. If you order before 12 noon on a business day we will likely ship your order the same day. Otherwise it will likely ship the next business day. Please note during busy peak times there may be a few days delay in sending orders.

We will ship directly to you from our warehouse in Australia, the time it takes will vary based on where you are.

Estimated shipping times from Australia Post, if you are in:

- Australia 

1-5 business days

For international shipping below please expect some delays as there are less available flights due to COVID-19:

- USA - shipping will take 3-10 business days
- UK - shipping will take 5-12 business days

- Most of Europe - shipping will take 5-15 business days

- Rest of world - will depend on your location

Express Shipping available for some locations and will be shown as an option on checkout.

Please note that during large sales events, due to a large amount of orders the shipping of orders may be delayed.

Unfortunately, as the world still battles this pandemic, international orders may be delayed.

For further assistance, or help tracking your order please contact us through our contact page here.

Please note that once a postal service takes ownership of your parcel for delivery it is out of our control if it is delayed or goes missing. Of course, we will do all we can to expedite delivery on delayed parcels and we will resend any deemed lost by the postal service. Our standard refund policy applies to delayed or lost postal items.

Please note that some countries charge customs, duties and taxes when sending internationally from Australia. The payment and understanding of these fees is the responsibility of the purchaser.
Pre-Order Info

Notice to all customers:
Due to recent activity by celebs, influencers, social media, Vogue Australia and Women's Health Australia the Emamaco brand is in high demand. 
New stock is being made and delivered to our Melbourne warehouse constantly.
Due to this we allow pre-orders on items arriving soon.
So if you have items on pre-order expect to get them super quick (hooray!)
However please note that many items on pre-order sell out before they even arrive.
We recommend that if you do not want to miss out that you place your order as soon as possible.
Pre-orders on items/sizes which are coming in soon are clearly marked as "pre-order". 
If you are able to add to cart and buy an item well then it is in stock and ready to go!!
Note that this is not a medical device and not to be worn during pregnancy
See them in action on real customers
You read that right - we custom make all our own fabrics. So all our leggings, shorts, 3/4s - well just all of them are so ridiculously smooth that pet hair doesn't stick to them. It's so amazing for our pet peeps that even Women's Health Australia wrote an article about it!
Worried about your environmental footprint? So are we.
We will always work on this.
But So Far:
We've eliminated printed receipts that get sent with every order
We run a paperless office
We use recyclable plastic bags
We use as many postage bags made out of recycled plastic as possible
Maternity clothes aren't forever. So we collect old maternity clothes and donate them to a women's health shelter